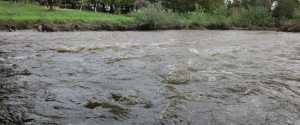 Here's what I've been hearing people say about the rain, "I wish we could store more of it". That just about sums up Santa Cruz's water problem. We get plenty of rain at times and can go for long periods without much rain. We need more storage to smooth out the dips.
In his proposal to use the old Cemex quarry on the North Coast for a reservoir, JoeBen Bevert points out that Santa Cruz has a low amount of storage in proportion to its annual water use compared to other urban water districts in this climate. The City's storage in Loch Lomond Reservoir in relationship to its annual water use is approximately 1:1. San Francisco PUC has a 3:1 storage-to-use ratio.
Aquifer Restoration Scenario—Choose It Or Lose It
The Water Supply Advisory Committee has received several proposals for increasing surface storage (new reservoirs) as well as storage underground in the aquifers. Whether or not the WSAC recommends a surface storage project like the Cemex quarry, there is urgency in choosing aquifer storage as a priority. Unless we choose to restore our aquifers, we can lose the benefit they currently offer.
It is hard to imagine how the Santa Cruz water supply could be adequate for generations to come if saltwater intrusion poisons the City's coastal wells tapping the Purisima Aquifer. Currently the City derives about 10% of its summer water production from wells in Live Oak. In 2014, well water was closer to 14% of the City's production during the summer months.
The City pumps from the same aquifer near the coast as the Soquel Creek Water District. If the District loses coastal wells to salt water intrusion, it would be a staggering blow to the residents and the economy of Mid-County.
On the other hand, if the groundwater levels of the Purisima Aquifer can be restored to safe levels, the City can rely much more heavily on groundwater during drought years. During the last serious drought of 1988-91 the City pumped 2 million gallons a day from its Live Oak wells.  But with groundwater levels dropping dangerously low, the City currently limits pumping to 1 million gallons per day.
Not only would restored aquifers allow the City to increase groundwater production in drought years, it would allow neighboring districts to supply the City with additional groundwater as well as part of a water exchange agreement.
Using Winter Flows to Restore the Aquifers
The other aquifer that needs restoration is the Santa Margarita Aquifer beneath Scotts Valley. Groundwater levels in portions of that aquifer are 200 feet below historic levels. The good news is that this low groundwater level affords space in the aquifer for Santa Cruz to store winter flows from the San Lorenzo River. This "water banking" strategy is also beneficial for fish habitat, since higher groundwater levels would result in higher stream baseflows during the dry season.
Water banking can be accomplished directly, through injecting or percolating water into the aquifer, or indirectly, by sending Santa Cruz drinking water to neighboring districts during winter months, allowing those districts to reduce their pumping and the aquifers to naturally recharge. The potential of direct recharge in the vicinity of the City's Live Oak wells needs to be studied. Kennedy/Jenks has already studied the feasibility and infrastructure needed for indirect recharge, as well as direct recharge at the old Hanson Quarry, one mile from the City's Felton Diversion on the San Lorenzo River.
An agreement between Santa Cruz and neighboring districts would establish the quantities of water that neighboring districts would send to Santa Cruz during drought years. According to a draft County report, with current infrastructure and one additional pump station, Soquel Creek District could send 1.44 million gallons a day to Santa Cruz over a 4-month period. Scotts Valley could send 1 million gallons a day, with the construction of a new intertie and additional wells. These deliveries would depend on the restoration of groundwater levels to safe levels.
The Lochquifer Strategy
Once our water agencies commit to a strategy for aquifer restoration, it will take time for the groundwater levels to rise to safe levels. Engineer, Jerry Paul, has suggested a strategy to accelerate that timeline. This strategy expands the time period in which Santa Cruz would supply water to neighboring districts.  The time extension is enabled by greater draw-down of Loch Lomond than is currently practiced. Collaboration with neighboring districts would allow the City to safely draw down the lake because the City could rely on additional storage in our neighbors' aquifers in case the lake doesn't refill in a dry winter.
In one of life's rare "if you spend more, you get more" situations, if the City and its partners would use more Loch Lomond water in the dry season, more runoff would be captured in the lake during winter.
Collaboration Needed
An intertie exists between Santa Cruz and Soquel Creek District. It's a matter of applying to the state for a temporary urgency transfer permit and turning on the valve. In July Soquel Creek District wrote a letter to the Santa Cruz City Council requesting a meeting to discuss receiving Santa Cruz water "this winter". That meeting hasn't happened yet.
Scotts Valley Water District is also a willing collaborator. The District submitted a strategy to the City's Water Supply Advisory Committee for Groundwater Recharge/Water Banking at Hanson Quarry.
The County's water rights attorney has writtten a memo describing the variety of strategies that could be used to authorize regional water transfers. Temporary urgency changes require less than 90 days for the state to process. Long-term transfers approvals take between 1 and three years.
Before proceeding with a water rights application, the City needs to confer with the state and federal fisheries agencies with which it is negotiating a habitat conservation plan to comply with the Endangered Species Act. The fisheries agencies have expressed support for water transfer concept of making use of winter flows, allowing the City to leave more water in the streams for fish habitat in the dry season.
The history of engineering studies recommending inter-district water transfers is now 30 years old. (See below.) Let's not spend another 30 years watching the rain fall and wishing we could store more of it. Thanks to the feasibility studies we know how to turn our collective umbrella upside down. Let's ask the parties: City, neighbor Districts, and fish regulators, to sit down and work it out.