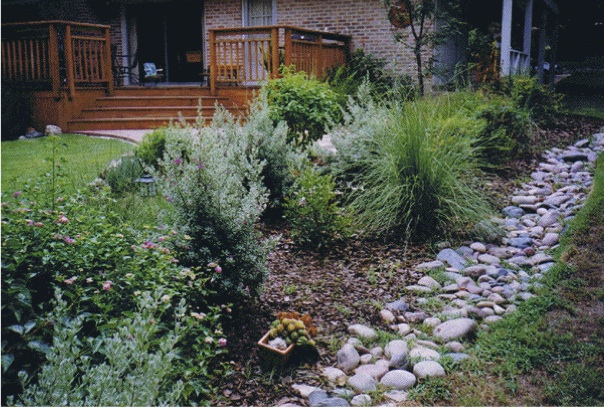 Maximizing Rainwater Infiltration in Our Landscapes
Tuesday, May 26th, 7-8:30pm,  Simpkins Swim Center, 979 17th Ave.
Low cost measures to maximize rainwater infiltration on individual properties can contribute to recharging our depleted groundwater aquifers. Find out how to be part of the solution to our water supply problems.
Speakers:   Emily Corwin, Fall Creek Engineering; Mike Cloud, Geologist & Hydrologist; Sherry Bryan, Ecology Action
The Resource Conservation District conducts no-cost evaluations for property owners on storm water management.
The Santa Cruz Water Supply Advisory Committee is interested in exploring the restoration of local aquifers as a way to bank sufficient water for a future in which dry years may be more frequent and severe. The aquifers in our area have been depleted in recent decades because groundwater pumping has exceeded the rate of rainwater infiltration into the ground.
The strategies to restore groundwater levels include:
Conservation—Come give your input about conservation at the Surf City Saves MORE event on May 21st, 7pm Police Community Room
Using "injection wells" to put treated river water in the aquifers during winter months
Putting Scotts Valley and portions of Soquel Creek Water District on City water during winter months (allowing those districts to rest their pumping). This is called "in lieu recharge".
Allowing more rainwater to soak into the ground by modifying paved surfaces and landscapes—known as "low impact development"
In 2011, the Kennedy/Jenks engineering company (K/J) studied a variety of methods to recharge the aquifers in the Scotts Valley area. Their study noted that the urban core of Scotts Valley sheds 1000 acre feet per year of water that used to soak into the ground prior to development. That compares to Scotts Valley average water use of 1350 acre feet per year. Kennedy/Jenks concluded that modifications to allow storm water to penetrate the ground was the most cost-effective aquifer recharge strategy—ahead of direct injection and in lieu recharge. And K/J didn't even take into account the water-saving benefits to our garden soil from increasing rainwater infiltration.
I'm excited about the workshop on May 26th, because Emily Corwin and MIke Cloud are going to discuss where in our county does it make the most sense  to maximize our rainwater infiltration. And Sherry Bryan has a wealth of information about how to get our yards ready for the rain from our roofs.  RAIN? — NOAA says there's above a 60% chance of El Niño through Fall of 2015.