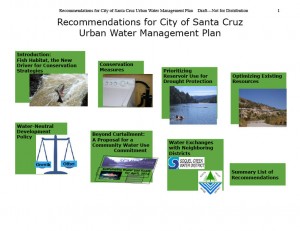 It's easy to understand why the Board members of the Soquel Creek Water District would consider desalination, even though they don't like its harmful environmental impact and its price tag. They consider it the lesser of two evils. The worse evil would be to over-pump the aquifers to the point where salt water pollutes them, making them unusable for generations.  I agree. That would be terrible.
When faced with a choice between two evils, it's a good thing to pause to explore other  options. This is especially true in the case of desalination, because it would only be a temporary fix for Soquel Creek's aquifer overdraft.  The world is about to leave the era of cheap and abundant fossil fuel energy. As former mayor of Huntington Beach, Debbie Cook, pointed out in her talk in Santa Cruz last year, when energy prices soar, desalination plants will be abandoned because they will cost too much to operate. The abandoned desal plants in Santa Barbara and Marina are the handwriting on the wall.
Desal just postpones facing the need to live within nature's limits. Turning to desal is like taking out one more credit card in order to continue living beyond your means. Postponing the inevitable day of reckoning only makes the return to living within your means more painful. Incurring bond debt to build a desal plant (whose cost estimate has quadrupled in the last eight years) will only make it harder for the next generation to fund conservation programs and replace aging water supply infrastructure.
The details of a Plan B are emerging from the efforts of community groups, engineers, and a former water agency manager. Click here to view the 18 page Recommendations for the City of Santa Cruz Urban Water Management Plan.  While some details are specific for the City of Santa Cruz, many of the recommendations apply to Soquel Creek District.
On July 11, we will present the recommendations to the City Water Commission.  (City Council Chambers, 7pm).  We'll be asking the Water Department to include the recommendations in their draft of the Plan which will go to the Santa Cruz City Council as early as September. That's when we'll ask the City Council to put the $18 million pre-construction spending on hold and implement the alternatives in Plan B. If the City Council fails to implement Plan B and keeps spending on desalination, we'll have recourse to a ballot initiative.