This submission recommends watershed restoration as a strategy for aquifer recharge as well as habitat restoration for federally listed fish species.
Low Impact Development
It is not only over-pumping that depletes aquifers. Aquifer depletion occurs when impervious surfaces prevent rainwater from penetrating the ground. Several aquifer recharge strategies were evaluated in a recent study by Kennedy/Jenks.[1] The study ranked the top ten strategies according to cost/benefit and feasibility. The study's #1 alternative is Enhanced Stormwater Recharge through Low Impact Development in Scotts Valley. This involves retrofitting streets and parking lots to allow rainwater to penetrate the sandy soils of Scotts Valley.
The fact that low impact development was named the most cost effective aquifer recharge strategy should give us a wake-up call. Our water agencies invest in low impact development if there is state grant money available. But if retrofitting impervious surfaces is a cost-effective strategy for protecting and enhancing our water supply, it should be considered for direct ratepayer funding.
Recommendation:
The City should conduct a cost/benefit analysis of funding stormwater infiltration projects in groundwater recharge zones.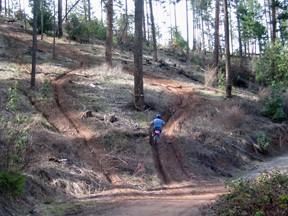 Sediment Reduction Strategies
In the past the Water Department has had the luxury of avoiding water from streams and river during and after storms when the water is too muddy. Instead of diverting turbid river water, the City has used reservoir water during these events. The City is now considering water treatment upgrades to enable it to treat turbid water.
Lowering turbidity in our source water would ease the burden on water treatment technology. So it makes sense to consider investments in strategies to reduce human-caused sediment runoff into our streams. This would also benefit fish habitat, since sedimentation is the major factor besides excessive water diversions in preventing steelhead and coho salmon from successful reproduction.
Sediment runoff in the San Lorenzo River watershed is a formidable problem. A Metro Santa Cruz article, Roads to Ruin, reported, "Santa Cruz County environmental planner Dave Hope … echoes an opinion widely held among geologists, biologists and even foresters that disastrous erosion problems stem from an estimated hundreds of miles of both new and abandoned logging roads and illegally constructed roads that snake throughout Santa Cruz County."[2]
The County developed a San Lorenzo Watershed Management Plan in 1979 that called for watershed restoration. An update to the plan in 2000 reports:
Stronger regulations were implemented to reduce erosion from new development, but many of the recommendations for funding and technical assistance to address existing chronic erosion sources were not fully implemented due to significant funding cutbacks in local and federal programs.   Stream sedimentation has not improved substantially since adoption of the 1979 Plan.  Chronic sediment contribution from public and private roads remains as a significant source of stream degradation.[3]
Recent monitoring indicates that there has been some improvement in stream sedimentation during storm events.[4]
The City is prepared to commit to a Habitat Conservation Plan that will require the City to invest in watershed restoration projects. The City's Draft HCP (2011) discusses watershed restoration projects:
The City will provide funding for the Santa Cruz County Resource Conservation District to set up a Technical Advisory Committee to guide and implement region-wide restoration priorities. The City will provide annual funding for projects and the TAC will decide on projects and allocate the funds.[5]
We note that there exists a huge backlog of needed watershed restoration work alongside a need for local youth employment. The California Conservation Corps contracts with local government agencies to conduct restoration projects. A half-million dollars per year would employ 12 CCC youth.
Recommendation:
It is recommended that the City convene a joint effort with Scotts Valley Water District and San Lorenzo Valley Water District to contract with the California Conservation Corps to engage in watershed restoration, including restoration of roads; storm water infiltration projects; and partnering with schools and community groups to do restoration.
---