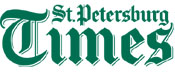 March 17, 2009
Tampa Bay Water's long-troubled desalination plant is having more problems.
The $158 million plant, which opened five years late and cost $40 million more than expected, remains unable to supply the full 25 million gallons a day that was originally promised.
Water's Quick Fix a Long-term Drain
RUSTING in sea water, the $1.2 billion Gold Coast desalination plant required repairs soon after it opened. The showpiece of a Queensland government strategy to drought-proof the state's booming southeast, the project has been plagued by so many construction flaws and unscheduled shut-downs that the government is still refusing to take possession from the contractors who built it.
In the USA, the only large scale seawater desalination plant in operation is at Tampa Bay. In California there are brackish water desalination plants operating in Oceanside, Morro Bay, and Sand City. Reverse osmosis to desalinate brackish water consumes less energy than desalinating seawater and doesn't have the problem of killing small marine organisms. Marina has a small beach well seawater desalination facility. Other small facilities exist such as at Diablo Canyon and Moss Landing power plants.  Paul Gratz has compiled information on California's problematic experience with desalination:
• In 1992, Santa Barbara built America's largest reverse osmosis (RO) plant for producing 10 to 12 million gallons of water per day. Finally, however, the rains came and Santa Barbara was able to tie into the California Water Project, which provided water at half the price of desalinated water. So, Santa Barbara put its plant into "long-term storage mode." The boondoggle project was mothballed before a single drop of water was introduced into the distribution system. The plant has since been decommissioned — standing as a "white elephant" reminder that no matter how great desalination promises may be, often financial and energy costs prevent facilities from reaching their full potential. Meanwhile, Santa Barbara residents are still paying off the bonds for the plant.
• In Morro Bay, a much touted $3.7 million "bargain priced" brackish groundwater RO facility was constructed as a temporary emergency facility and operates intermittently, currently about two weeks a year.
• Catalina Island has not operated its plant in years, relying on water rates that are perhaps the highest in the nation. Their top water tier is over $10,000/acre-foot. In response to the utility's rate increase request, the California Public Utilities Commission says about the Avalon facility: "…for Catalina Island in 2005, desalinated water accounted for only 25% of total water production, but desalination accounted for approximately 70% of total electricity usage.
• Poseidon Resources has proposed for-profit RO plants to be built in Carlsbad and Huntington Beach. According to Poseidon Vice President Scott Maloni the first water is to be sold to local San Diego area agencies in 2011. The Carlsbad facility expects to produce 50 million gallons of drinkable water a day, making it double the capacity of the current largest U.S. plant and larger than any seawater desalination plant outside the Middle East, according to the International Desalination Association. Poseidon expects the plant to supply 10 percent of San Diego County's water needs. "This will change the way California views the Pacific Ocean," Maloni said. "The Pacific is now becoming a meaningful part of California's water portfolio. However, the project was delayed by the bankruptcy of Poseidon Resources' successive partners in the venture and rumors have surfaced as the permitting and financing of Poseidon's Carlsbad desalination plant looks set to drag on into 2011.
The venture capital-backed corporation has spent over a decade developing the project to make sure that Carlsbad will be looked on as a model for others that will follow. Nevertheless, the struggles that Poseidon faced getting through the permitting process seem to have sapped confidence in the possibility of building more SWRO plants throughout in California. Delegates at the American Water Summit in Washington DC were asked "who will build the first large-scale desalination plant serving California?" 25% of those present suggested Poseidon Resources with IDE as its EPC contractor would build the first major desalination plant on the coast. 32% said that one of the public water agencies would get to the finish line first. But the largest proportion of those present – 43% – expressed the opinion that the first big desal plant serving California would not, in fact, be built in California. Instead, it will be built in Mexico, where the permitting restrictions and political obstacles are easier to overcome.
• The California Coastal Commission will hear an appeal on Huntington Beach's approval of Poseidon's planned desalination plant in the city. Environmentalists, activists and public officials who filed the appeal allege that approval of Poseidon's project is inconsistent with Huntington Beach's Local Coastal Program (LCP).
• Oceanside officials are considering expanding the city's desalination program after its main water supplier raised its rates. The San Diego County Water Authority (SDCWA) sells Oceanside water that it buys from the Metropolitan Water District of Southern California, which is increasing its prices. The SDCWA supplies about 85 percent of Oceanside's water and the rest comes from its 6 MGD brackish groundwater desalination plant (BWRO). Oceanside is studying ways to supply up to 50 percent of the city's water by building a larger desalination facility next to the existing one. A new 10 MGD facility could cost as much as $151 million.
• Only opened last year, the Sand City facility is the first full-scale reverse osmosis desalination plant in California to receive permitting approval under the new regulations, setting a precedent for aggressive market penetration into the Monterey Bay area. Although it is a brackish water (BWRO) treatment plant (it does not use ocean water) and small when compared to plants in other parts of the world, the opening marked a big moment for municipally owned desalination systems.
• Cal Am has applied for a permit to build a larger desalination plant north of Marina. The proposal has drawn criticism from the Public Utilities Commission's Division of Ratepayer Advocates, which disputes the project cost estimates, and the Monterey Peninsula Water Management District, which has expressed similar concerns.
• In Marin County, the voters have not approved a SWRO desalination facility. They did approve the ability of the Marin Municipal Water District to continue to develop the design and permitting requirements of a desalination facility that would be brought to voters for approval sometime in the future, if there is a need for the facility. The November 2010 election exposed an uncomfortable fact that as a desal contractor for the water district, Kennedy-Jenks contributed $5,000 to defeat the ballot measure.